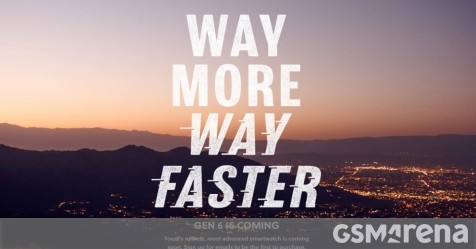 Fossil Gen 6 smartwatches to be unveiled on August 30
Fossil announced its Gen 5 smartwatch in 2019, and the company will unveil the Gen 6 series next week, August 30.
Fossil has set up a promotional page on its website to tease the Gen 6 smartwatch, and although the company doesn't explicitly mention the August 30 date on the page, an email sent by Fossil with a countdown suggests that the Gen 6 smartwatch will be unveiled early. Monday.
In addition, the company posted a video trailer on his Facebook account, giving us a preview of Gen 6.
Fossil hasn't disclosed anything else about the Gen 6 series yet, but a recent leak revealed that smartwatches will arrive in 42mm and 44mm sizes with Snapdragon 4100+ SoC and 1.28 "OLED displays with Always functionality. -We.
Most models will be waterproof up to 50 meters and offer 24 hours of battery life, with the cell going from flat to 80% in 30 minutes.
For health and fitness, the Gen 6 will come with a step counter, heart rate monitoring, SpO2 sensor, and built-in GPS.














Different styles of Fossil Gen 6 watches
The Fossil Gen 6 will run Google's Wear OS out of the box, but it's not the Wear OS 3 introduced in May. This one will arrive on Fossil smartwatches as an upgrade next year.
The Gen 6 is reportedly priced between $ 300 and $ 330, with sales slated to start on September 27. We will know if this is true on Monday.